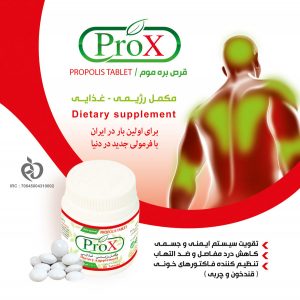 About This Project
Advantage of propolis tablet (ProX):
1-      The propolis was cleaned and extracted for removing of extra portion of mixed with propolis such as sand, piece of wood, dead body of bee, wax and etc..
2-      Total Polyphenol is adjusted for tablet instated of propolis weight.
3-      The tablet is formulated for high absorption in the small intestine.
4-      The propolis is selected from mountains with highly herbal flora  with most effective flavonoids.
5-      The tablet has sugar coated for its view and simply eat.
Description: Propolis has a very long history as a medicine for humans. It is reported to have treated colds and sore throats, stomach ulcers, burns, haemorrhoids and joint and muscle inflammation. A range of propolis component include various chemical compounds of flavonoids, phenolics and aromatics; trace amounts of fatty acids, vitamins and minerals. Hundreds of chemical compounds have been identified from bee propolis extract. The main chemical classes present in propolis are flavonoids, phenolics, and various aromatic compounds. Flavonoids are well-known plant compounds that have antioxidant, anti-bacterial, anti-fungal, anti-viral, and anti-inflammatory properties. Other properties of propolis beeglue include acting as a local anesthetic, reducing spasms, healing gastric ulcers, and strengthening capillaries. Propolis acts as a natural antibiotic which raises the body's resistance to disease by internally stimulating the immune system. This helps the body fight infection, colds, flu and sore throats. Propolis may help improve skin condition. Applied externally, propolis is good for abrasions and bruises because of it's antibacterial effects. It may also help lower blood lipid and cholesterol levels as well as lower blood pressure. Some suggest that propolis improves energy and endurance in athletes.
 Benefits and Uses of propolis tablet:
• antioxidant properties
• rejuvenates the body
• stimulates organs and glands
• aids bacterial infection
• protects against disease and infection
• protects against cellular deterioration
• enhances immune function
• lengthens life span
• increases energy levels
Suggested Dosage or Use: The FDA has not determined any guidelines for taking bee propolis products. There is a recommendation of 1 to 3 tablets per day with a glass of water between two meals or 1 hour before a meal, as a dietary supplement.
Cautions: kids under 5 years old should be used with physician prescription. Patients with allergy, asthma and digestion disorder should be used with physician prescription.
Storage conditions: Store below 30oC and keep at dark and dry place.
Condition of carriage: carry under 30oC and keep at dark and dry condition.
Category
Dietary supplements