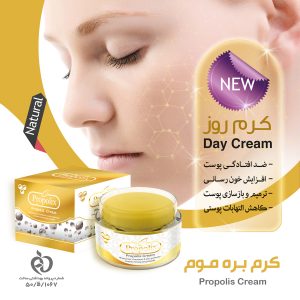 About This Project
Propolis Cream
Information:
Propolis cream is made from active compounds of propolis. Propolis is extracted from the hive of bees which traditionally apply as natural treatment for wound and skin diseases. Propolis has antimicrobial activity that can be used as skin guard. Propolis is a combination of different materials, including a variety of flavonoids, antioxidants, phenolic compounds, amino acids, vitamins and antibiotics. According to the scientific literature and FDA documents, propolis can be used as immune modulator and increase body resistance against microorganisms. Propolis can help cells as activator and induce skin cell proliferation.
Propolis action on skin:
Propolis cream clarifies and purifies the acne-prone skin, decreased inflammation, heading acne and skin ulcers. Continuous use helps to repair the complexion skin. Continuous use assists to repair the complexion and promotes a clear, healthy glowing appearance. This cream is suitable for all skin types.
How to use:
To benefit more from the positive effects of propolis cream, before going to sleep or at rest ,apply on clean skin. For dry skin it is better to apply the cream with skin massage and in oily skin, after applying the cream, spread by finger.
Side effects:
Propolis may cause allergic reaction in very rare people. In case of any sensitivities or allergies should be consumed in moderation.
 Storage
Store under 30oC and less direct light. Propolis cream has no chemical stabilizer therefore it is better to keep in lower temperature. Less color change is normal due to propolis behave.